Boston - Day 2 - Tuesday 14th February 2017
So, todays plan was a trip to Harvard University and then a trip on the Trolley to see some sights.  We woke about 6am which wasn't too bad for day 2.  After the usual weather checking on the TV we were out by 8.15am.  The weather today was glorious blue skies and sunshine but colder than yesterday.
Harvard is in the Cambridge suburb of Boston and the quickest way to get there is on the T.  So, we headed out the hotel (after a Starbucks coffee for me

), through the Prudential Mall to the T stop.  We had to change lines and overall the journey took about 25 minutes which wasn't bad at all.  As we got closer more and more students were getting on the train so we knew we were heading in the right direction.  The other bonus of heading to Cambridge was it has an IHOP

No trip to America for me is complete without some pancake action and I adore the coffee from there.  The IHOPs we visit in Orlando are always packed but this one was really small and there are only 2 other people in there.  
Suitably re-fuelled we headed to find Harvard University.  I had downloaded maps.me back home and marked up some key locations on it in case we got lost and I'm glad I did as there were no signs for Harvard and we wouldn't have had a clue!  The walk was lovely.  Cambridge is a very small little town but had some shops and restaurants and quaint houses.  We live in Cambridge in the UK and it was strange seeing signs everywhere.  The walk took us across Cambridge Common which with the beautiful blue skies, sunshine and snow was just spectacular.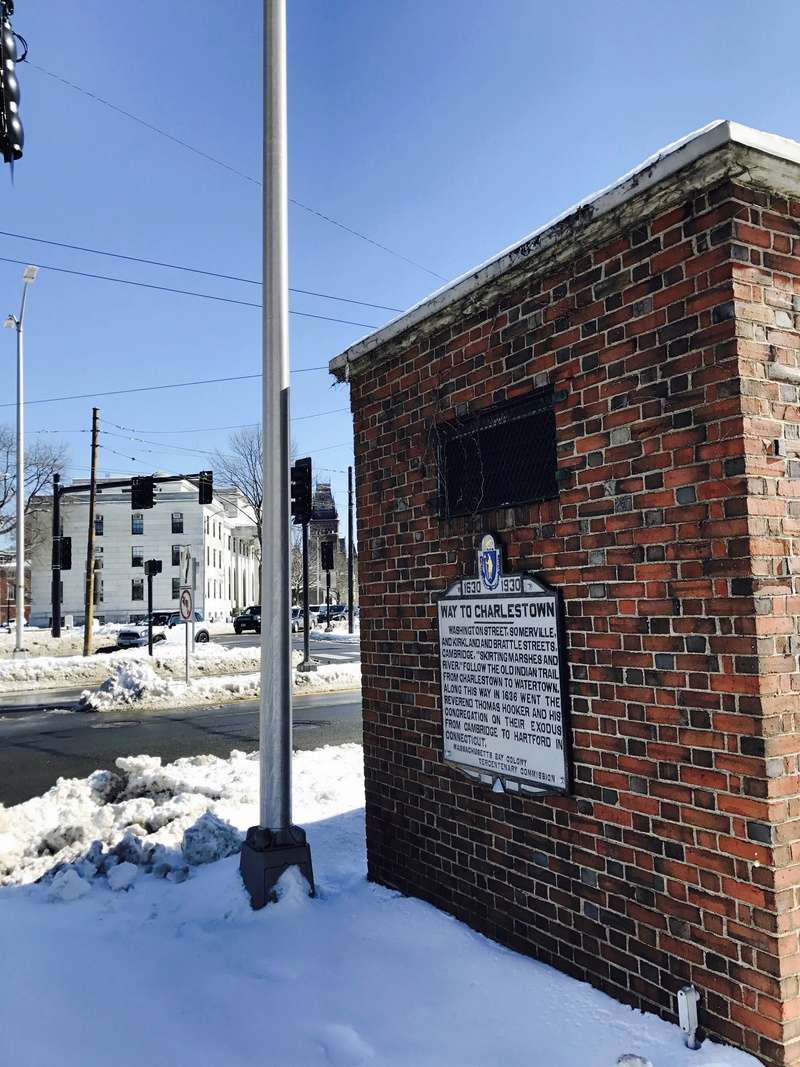 We eventually reached the outskirts of the campus.  We are very lucky in Cambridge (UK) to have some wonderful University sites which I often take for granted.  This campus whilst not as old was just as beautiful with a real mix of buildings.  Our plan was to head to the Natural History Museum as some of the exhibits looked really interesting.  Entrance was free with our Go Boston card and I think the fee was about $18.  The lady on the entrance desk asked where we were from and when we said Cambridge, UK, she replied "Oh the original one then"

The first exhibit we visited was the geology area with precious stones and rocks.  This was really interesting.
We then wandered through the rest of the museum which has an amazing collection of animals and fossils.  It is on par with the Natural History Museum in London just on a smaller scale and all the staff are really friendly and explain the exhibits.  We also liked the emphasis on the New England area.
The last exhibit was simply amazing.  The university has a collection of glass flowers and they are breathtaking - they look so realistic and if you didn't know they were made of glass, you would never know.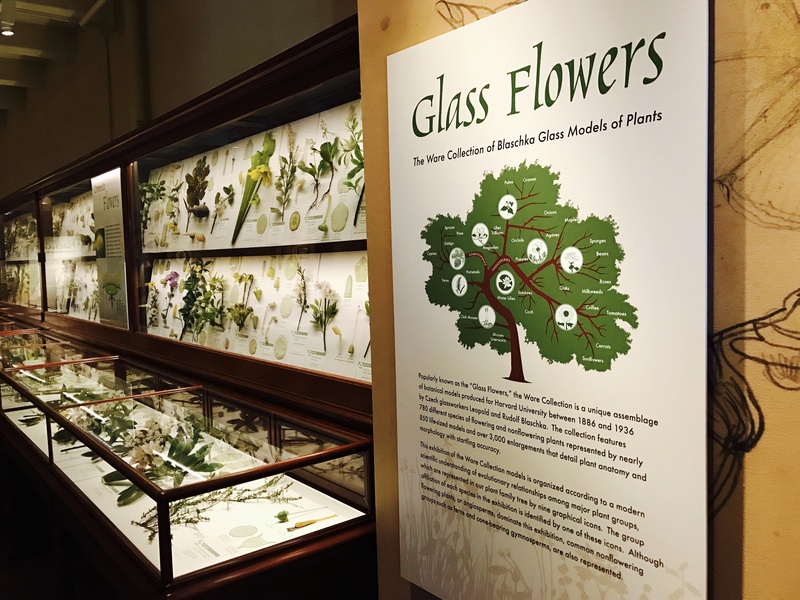 We spent a good couple of hours in the museum and had a great time, well worth a visit.
We re-traced our steps as the plan was to head back to Boston and hop on the Trolley for a sight-seeing tour.  Harvard Campus really is stunning and you can feel why it is one of the most respected educational institutions in the world. I'm glad we got to see it in all its glory with the beautiful weather we were blessed with.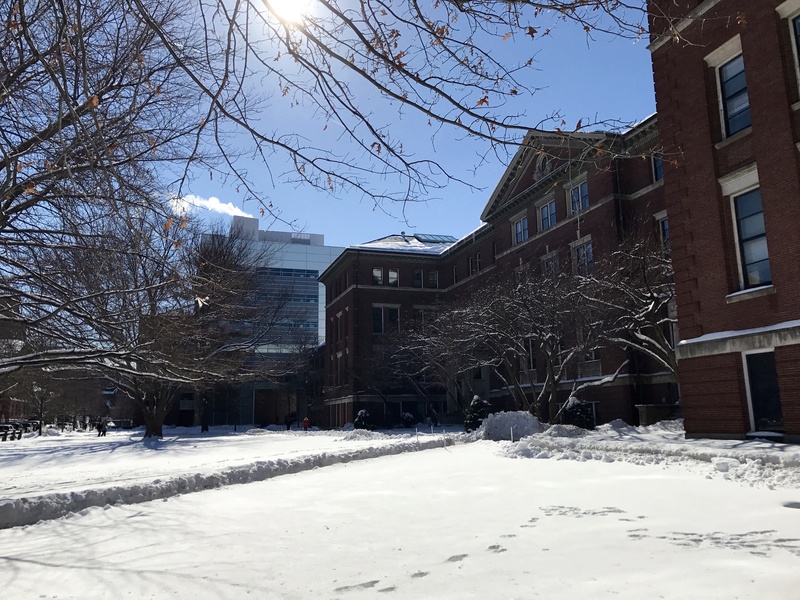 So, we got the T back to Boston getting off near the Aquarium where we visited yesterday.  Now, I thought as part of our Go Boston cards, we had tickets for the Boston Trolley.  The trolley is the best way to see the cities historical sights, it is fully guided and you can hop on and off.  So, we made our way to the Trolley stand and I showed our Go Boston cards to be told it wasn't included and was in fact for a rival Trolley company that only open on a Friday, Saturday and Sunday in winter  

The rep told us it was a common mistake and that Go Boston card really need to be clearer with their marketing.  So, we no choice now but to buy Trolley tickets which cost $80 but were valid for 2 days and included tickets to the Boston Tea Party museum as well so we didn't mind too much.  We decided to do the whole tour which took 1.5hrs to get our bearings and decide on the way round which stops we would hop on and off during our second day ticket usage.  Sadly I couldn't take any photos as the windows were made of plastic as in the summer the trolleys are open top.  The tour was fantastic and the driver was really informative and funny.  I'm not sure of all the historical facts are truly accurate though  

 The one thing we did learn was how bad the Boston traffic is and this appears to be down to the lack of parking available in the city.  How the driver negotiated some of the tight spots with the tram was unbelievable!  Drivers just seem to stop in the middle of the road for no reason.  The driver told us Bostonian drivers have a very affectionate way with each other though - they toot their horn and lip readers would think they are saying "I love you"  


  We marked on the map the stops we wanted to explore.
Having down the whole route, we decided to head towhead to Cheers again for a beer and decided what the mid-afternoon plans were.  It was just a short walk from the end of the trolley tour.
So after a liquid lunch (IHOP had filled us both up!) we decided to visit the Old State House which is one of the most important buildings in Boston.  The Old State House is where some of the most influential people involved in the independence battle met to discuss their plans, is site of the Boston Massacre and is where the declaration of independence was first read to the people of Boston and in fact they still read it out every morning.
The Old State House is now surrounded by massive skyscrapers on every side.  Standing right beside I felt very enclosed, it was a strange feeling.
The Boston Massacre took place on 5th March 1770 right outside the Old State House.  British Troops came under attack from a mob who were becoming increasingly uneasy at the British rule.  The troops opened fire and 5 of the mob were killed.  Key political influences at the time, mainly Samuel Adams and Paul Revere, used to incident to further their cause.  It was Paul Revere who named it the Boston Massacre.  Several British troops were arrested for murder and placed on trial but under the defence lawyer John Adams who would later become the 2nd US president, some were acquitted and others were convicted of manslaughter.
Admission in to the museum was again included on our Go Boston cards.  It was really fascinating to be inside with it being such a key historic building.  It was fairly interactive museum and we spent about an hour in there.  It basically gave a really thorough overview of the patriot movement and the conflict with the British troops.  Its not something I really knew too much about before but it is really interesting and I'm glad we did it early in the trip as understanding this is key to all the other historical sights in the city.
We decided to head back to the hotel at this point for a quick rest before heading back out to Newbury Street.  Newbury Street is the Boston equivalent of 5th Avenue and was set 2 streets back from our hotel.
We had a really lovely stroll taking in all the shops, looking out for celebs who are apparently often spotted wandering up and down Newbury Street and enjoying the changing atmosphere as the sun set.  The street is lined with trees which light up at night and it looks really pretty.
By now it about 7pm and we were really hungry having not had lunch.  We decided to head back to the hotel and freshen up before deciding on where to eat for dinner.  One thing we had forgotten was that it was Valentines Day and when walking back to the hotel, we quickly realised all the restaurants were really busy and so we decided to eat at the hotel again.  They had a special event on for the Valentines where couples had pre-booked to do a painting lesson, some of the results were quite good!  The bar area was busy as the painting event had taken over the restaurant but we managed to get a table.  We both had a burger and a beer which was very tasty.
So another day over which had been thoroughly enjoyable  

Last edited by Goldengirl30 on Sun 26 Feb - 17:00; edited 1 time in total (Reason for editing : Spelling)

Goldengirl30

Regular





Posts

: 2691


Join date

: 2013-08-20



Look at all that snow, here in UK the country would have grinder to a halt. We always take a bus or trolley tour, you learn so much about the area. Love all the photos, thanks for sharing x

lovetoshop

Regular





Posts

: 8011


Join date

: 2013-08-18


Location

: Arundel



We LOVE a bus/ trolley tour! Harvard looked amazing. Loving all your photos, it's making me even more determined to get there sometime soon. You did loads too.


alysond

Regular





Posts

: 2905


Join date

: 2013-08-18



yes FANTASTIC pictures!!!......
thanks for the report


chiricahua

Regular





Posts

: 1617


Join date

: 2013-08-18


Age

: 64


Location

: notts



Great pictures thank you.

ayrshireboy

Regular





Posts

: 1493


Join date

: 2013-08-18


Age

: 54



Im another lover of a red bus/trolly tour

and look for one at every [place we visit

What a busy day, Harvard looks amazing, and ihop a girl after my own heart

not to mention shopping

xx

ilovesnowwhitej

Regular





Posts

: 3339


Join date

: 2013-08-18



Great report and photos, museum looked a bit like the one we went to in Orlando. Thank you.

manxies

Regular





Posts

: 3384


Join date

: 2013-08-18



wow the History in your pictures is amazing

petetina

Regular





Posts

: 1329


Join date

: 2013-08-18



wow  again fantastic pictures
In all the times we have been to Florida We have never been in a IHOP

Thanks for sharing

Debbie4

Admin




Posts

: 3453


Join date

: 2013-08-18


Age

: 53



A very informative report with great photos

Al the mot man

Not a Newbie





Posts

: 570


Join date

: 2013-08-18


Location

: Newcastle/ish





Similar topics
---
Permissions in this forum:
You
cannot
reply to topics in this forum